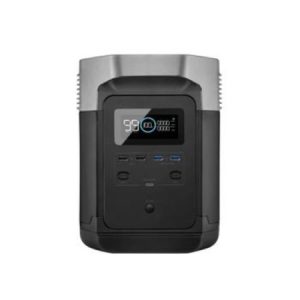 EcoFlow DELTA Power Station represents the new standard of battery-powered generators. Compatible with a wide range of devices, you can stay powered for hours whenever and wherever. 
RECHARGE 0%–80% WITHIN 1 HOUR

 EcoFlow

 patent 

X-Stream Technology

 allows the EcoFlow DELTA to recharge at 

10 times

 the speed of most portable power stations in the market 
4x 1800W AC OUTLETS & 1260Wh CAPACITY

 

The large inverter load enables EcoFlow DELTA to power most home appliances and heavy-duty DIY tools under 1800W (3300W Surge Capacity,

 

Pure Sine Wave

) with 1260Wh capacity
FASTEST RECHARGE BY SOLAR AND CAR

 EcoFlow 

DELTA can be fully recharged by solar panels in about 4 hours, and fully charged through a 12/24V car port < 10 hours.
POWER 11 DEVICES SIMULTANEOUSLY

 EcoFlow 

DELTA includes every port you'll ever need to power any devices anywhere, so you will always feel right at home.



EcoFlow DELTA Bundle
 
One Solar Panel
EcoFlow DELTA Power Station represents the new standard of battery-powered generators. Compatible with a wide range of devices, you can stay powered for hours whenever and wherever. 
RECHARGE 0%–80% WITHIN 1 HOUR
 4X 1800W AC OUTLETS & 1260Wh CAPACITY
 FASTEST RECHARGE USING SOLAR PANELS OR CAR CHARGER
 POWER 11 DEVICES SIMULTANEOUSLY

Stay off the grid with EcoFlow 110W Solar Panel Charger. Made up of efficient monocrystalline silicon cells, it can recharge the DELTA and your electric devices, and keep your equipment running without interruption when connected to our portable power station.
COMPATIBLE WITH MOST GENERATORS
 UPGRADE HIGH EFFICIENCY
 PORTABLE & FOLDABLE KICKSTAND PANEL
 WATERPROOF & DURABLE

Two Solar Panels
EcoFlow DELTA Power Station represents the new standard of battery-powered generators. Compatible with a wide range of devices, you can stay powered for hours whenever and wherever. 
RECHARGE 0%–80% WITHIN 1 HOUR
 4X 1800W AC OUTLETS & 1260Wh CAPACITY
 FASTEST RECHARGE BY SOLAR AND CAR
 POWER 11 DEVICES SIMULTANEOUSLY

Stay off the grid with EcoFlow 110W Solar Panel Charger. Made up of efficient monocrystalline silicon cells,  it can recharge DELTA and your electric devices, and keep your equipment running without interruption when connected to our portable power station.
COMPATIBLE WITH MOST GENERATORS
 UPGRADE HIGH EFFICIENCY
 PORTABLE & FOLDABLE KICKSTAND PANEL
 WATERPROOF & DURABLE

Three Solar Panels
 
Four Solar Panels
 
---