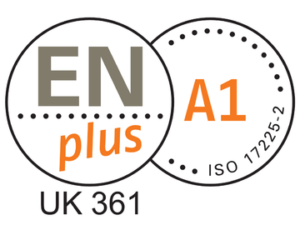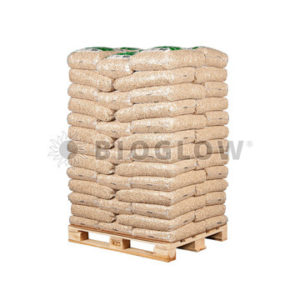 Flex Technologies is a member of the ENPlus quality assurance scheme under number UK 361 and is authorized on the Biomass Suppliers List.
We supply ENPlus A1 wood pellets in 15kg bags and big bags at the most competitive prices in quantities from one pallet to a vessel load. Delivery is available throughout the UK, Ireland, and continental Europe.
Buying for horse bedding or resale? 20% VAT rate applies – click here to order. Universal Wood Pellets are light-colored premium quality 6mm wood pellets in handy 15kg bags. They are a great choice for both biomass boilers and horse bedding and offer excellent value for money. These wood pellets offer a market-leading low content of ash: only 0.27%. ENPlus A1 is certified for the highest quality.Approved on the Biomass Suppliers List under numbers BSL0541408-0011, BSL0541408-0012, BSL0541408-0013. Please email info@bioglow.co.uk to obtain the BSL number applicable to your order.  Detailed specifications for the Universal A1 quality wood pellets are Diameter: 6mmHeat value at least: 17.3 MJ/kg (4.8 kWh/kg)Ash: 0.27%Moisture: 8.8%Fines: 0.1%This product is packaged in 15kg bags, with 65 bags on a pallet = total of 975 kg. Delivery only on an 18-tonne lorry due to limited loading capacity of tail lift on 7.5 t lorries. Special deliveries available at extra cost, please enquire. Delivery on smaller vehicles for properties with restricted access, delivery on short-wheelbase 12-tonne vehicles is available for all pallet sizes (except some areas in western Scotland and Northern Ireland where an 18-tonne vehicle may be the smallest size available). Guideline dimensions of a 12 tonne vehicle are 8ft 4″ (2.6m) external width, 30ft (9m) external length and 12ft (3.5m) external height. Delivery on 7.5 t vehicles and Luton vans with a tail lift may be available for items weighing 500kg or less on a case by case basis – email info@bioglow.co.uk or call 02030020359 to check. Access Grass, gravel, limited access? Add a sack truck to your order for £23.99 and move up to 325kg of heat logs/pellets/firewood (as appropriate for the product) to your store.VAT at 5% is included for fuel use only. Free economy delivery to all addresses in the UK and islands.
---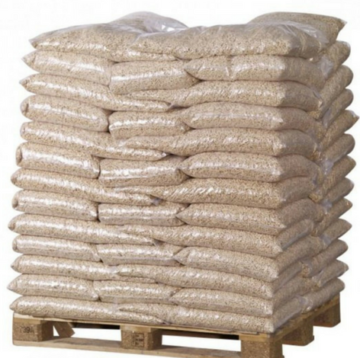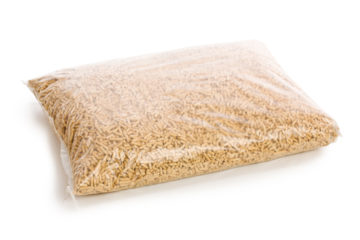 We offer full container loads of EN Plus A1 certified wood pellets in 15 kg plastic bags. Full load includes up to 20 pallets with 89 x 15 kg  clear plastic bags with pellets. Basic parameters of the pellets:
Moisture:  7.6%
Ash: <= 0.5%
Durability: 99.5%
Fines portion < 3.15mm: <= 0.1%
For comparison these are the requirements for EN Plus A1 pellets:
Total moisture: 6.1%
Ash in dry: 0.5%
Ash as received: 0.5%
Volatile matter in dry: 84.5%
Volatile matter as received: 79.4%
Gross calorific value in dry: 4,764 kCal/kg (19.9 MJ/kg)
Gross calorific value as received: 4,473 kCal/kg (18.7 MJ/kg)
Net calorific value as received: 4,145 kCal/kg (17.3 MJ/kg)
Sulphur in dry/as received: 0.01%
Durability: 98.7%
Abrasion: 1.3%
We are very competitive on price and quality for  of A1, A2 and industrial grade wood pellets delivered to Cyprus, Greece, Italy, the Netherlands, and the United Kingdom. Plain packaging, Bioglow or own label available. Point of sale posters and other promotional materials available. Consignment stock available. Drop shipping available.
---